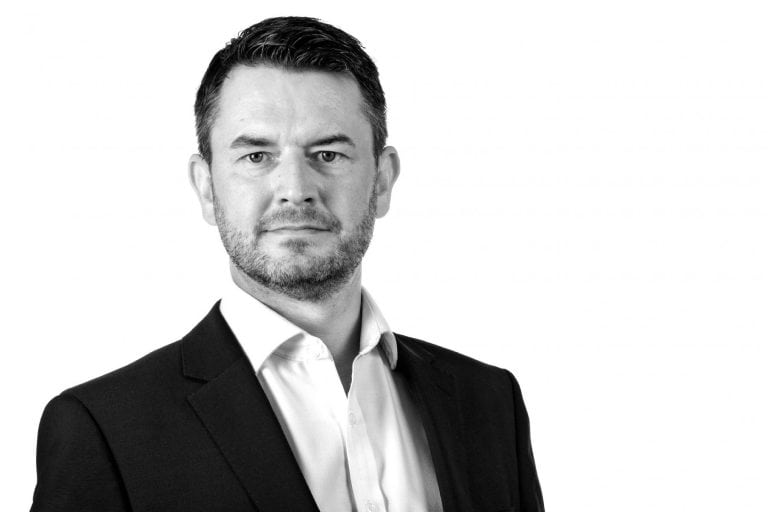 What's your background and how did you come to work at Howgate Sable?
Having toyed with the thought of joining the RAF at 18, I decided to go to university to study Organisation and Management. After working on a lean project during my industrial placement, I received an offer to work for a tier-one automotive manufacturer as part of a team setting up new facilities. By the age of 22, I was managing the supply chain over two sites supporting big OEMs like Land Rover and Rover, amongst others. I moved into aerospace in 2000, joining TRW ASG, where I worked as a supply chain manger before joining the central HQ team working in programme management, customer support and six sigma. That was the experience that set me up for executive search, though I didn't know it at the time.
I interviewed with a large recruitment consultancy for a role with Honeywell. Whilst being interviewed, they asked if I'd ever considered recruitment. I hadn't, and initially was quite resistant, was persuaded and joined in 2003. I stayed there for six years, opening offices, building up my knowledge of the industry and applying the skills I'd previously developed to assess candidates' technical and operational competence. I don't think I was ever a natural fit for a KPI-driven recruitment hothouse – I was probably a nightmare to manage and a little too independent for my own good!
I joined Howgate Sable in 2010 when Barry Heald approached me. Howgate Sable is the ideal platform for a top-performing recruitment consultant to come and prove themselves in executive search; it feels like a completely different industry. I can't imagine working anywhere else and am really proud to be part of the team setting the direction of the firm.
Why are you so passionate about executive search?
I'm a sociable and outgoing character, so working with and meeting new people is a pleasure for me. I also love the intellectual challenge that a client brief presents and the satisfaction of partnering to solve a business problem using my firm's resource, people.
Executive search, as opposed to contingent recruitment, affords me the time and space to do a thorough job, while keeping me in touch with the industries I'm interested in and giving me exposure to top-level executives that I would otherwise not have been able to meet.
I often make the comment to my longstanding contacts that I consider them 'business friends'. That's not necessarily true; I consider many of them good personal friends and working with them is a privilege. I like to build up a personal relationship with my clients and, done properly, executive search is a key asset to them and should assist with competitive advantage.
What do you find most satisfying about your job?
Outside of the natural thrill of landing new work or celebrating an appointment with a candidate, I get most satisfaction from assisting people with their own careers in executive search – identifying top talent and nurturing their progression. Since joining Howgate Sable, I've assisted in the hiring of many of my current colleagues and really enjoy seeing them flourish. We are a tight unit and I'm proud of what we achieve together.
If you weren't in executive search, what would you be doing?
Definitely something to do with technology – I'm a total gadget freak and would love to be involved with bringing ingenious products to market. Perhaps I'd be a New Product Introduction lead for a tech firm, or a strategic marketer, which seems to me just about the best functional role in a company. Sadly, I've given up on the expected call-up as Everton's nippy number seven replacement for Trevor Steven, albeit grudgingly!
Who would be your dream client?
Any of Elon Musk's enterprises, such as SpaceX or Tesla, or his most recent venture, The Boring Company. What's interesting about these companies is that they're tackling problems that haven't been solved yet, so their solutions are truly innovative. It's all about working harder and smarter and thinking outside the box – he is also not afraid to fail on the way to success, or to admit it. For me, the challenge of finding people to fill roles in that business would be inspirational.
What do you consider to be the biggest challenge affecting the search market currently
Business confidence – or lack thereof. I think the press, aided hugely by a lack of political decisiveness, has talked us into a negative mindset and it's had a knock-on effect on business, with a lot of the background noise and negative news clouding people's judgement and encouraging organisations to act more cautiously.
It's easy for people to latch on to convenient excuses – Brexit, elections, summer periods, Christmas – but the fact is: if you've got a business to run, you just have to crack on.
From my perspective, UK PLC needs to collectively stand up and shape the future. No matter your views on the EU, we have to focus on the positives of our situation and look to the future. I certainly do, as do many of my business contacts.
How do you predict the search market will change over the next decade?
I think it'll be defined by partnership arrangements, with firms like ours increasingly becoming trusted advisors to clients, rather than simply a service provider. I also think technology will play a key role and will influence the way we continue to work with clients over the coming years. One of my key clients is ABB. They are developing robots that can perform unimaginably complex tasks. We will (hopefully) always need people in business and the challenge of executive search will be fulfilling job roles that don't exist today.
One of your particular specialisms is manufacturing. How has this sector developed during the time you've worked in executive search?
My speciality areas have changed surprisingly little actually; however, customer demands are becoming stronger and their expectations higher. This has led to challenger brands emerging and rethinking the way we do things – just think of self-driving cars, WiFi-enabled domestic appliances and the like!
When it comes to search activity, those sectors that are further behind in development are increasingly looking to seed talent from those that are more evolved and are pulling on our experience in those industries to help them advance – the key in this instance is to understand evolution, not revolution, is the route to taking the existing workforce with you.
Which individual has inspired you most in your career and in what way?
Two people spring to mind specifically because they impacted my character and outlook on life. The first is Roger Creswell, who I worked for at TRW. He was an ex-RAF officer and taught me that life is the only game we play where none of us get out alive, so you might as well enjoy it. He also encouraged me to always try to understand somebody else's position in order to get the best out of a situation and potentially turn an adversary into a friend! Win-win isn't always possible, but being aware of the other person's point of view is critical.
The second is Dean Ball, my first managing director in recruitment. He gave me a brilliant grounding and taught me that there's always a way of succeeding in an ethical way. Dean was his own man and wasn't afraid to challenge the status quo. The onward progression of so many of his people is a testament to how effective he was in sharing a vision.
What's your claim to fame?
My friend is an author, but she writes under a pseudonym and has told me I'm a lead character in one of her books – it's torturous not to know which!
Which conversation do you wish you'd been a fly on the wall for?
It would have been fascinating to be in the bunker with Churchill and Hugh Dowding on the final day of the Battle of Britain, or witness the communication between Nikita Khrushchev and John F Kennedy when the Cuban missile crisis was at its height.
What's your elevator pitch?
I help my clients to achieve competitive advantage by matching them with new colleagues who can take them to the next level. I have a team with me who have incredible knowledge and experience of the executive search market and there are few roles that we cannot deliver on. We as a business are authentic, driven and passionate, and our success depends on delivery – we never forget that.