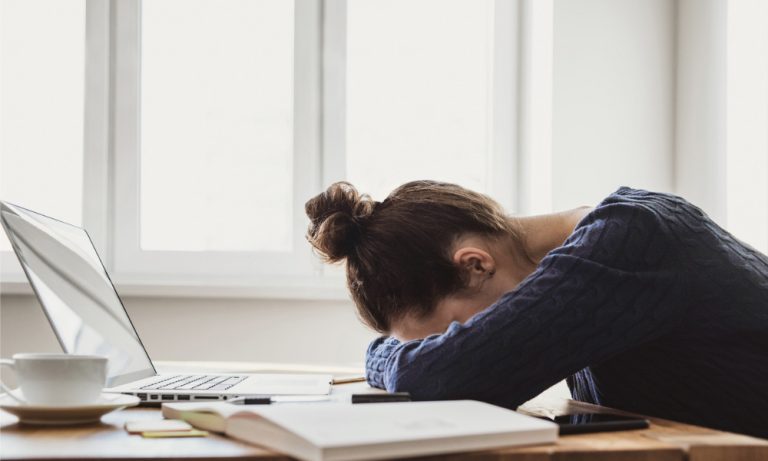 Mental health – we all have it. It encompasses our overall functioning and psychological wellbeing, including our ability to cope with positive and negative emotions in every aspect of our lives. Until relatively recently, though, the subject of mental wellbeing in the workplace has been something of a taboo – a subject shoehorned into an employee handbook because businesses knew they had to do something, but weren't really sure what.
Nowadays, offering a break-out space, implementing a buddy system or operating an open-door policy simply isn't enough. Businesses that want to be taken seriously by their workforce, future recruits and industry peers need to think seriously about their mental wellbeing strategy and — in the wake of a global pandemic — the issue has never been more pertinent.
In a recent study, 81% of employees said that stigma has stopped them seeking any help, half of those surveyed feared being open about mental health struggles would affect their jobs and development; and 37% worried that it would result in them being shunned by their colleagues. Employees are every organisation's biggest asset and typically their greatest investment. Encouraging the c-suite to sit up and take notice of mental health in the workplace is no longer just a moral obligation, but makes huge commercial sense.
It starts at the top
Under Health and Safety at Work legislation, business leaders have a 'duty of care' for their employees. Even pre-Covid, stress in the workplace was taken extremely seriously by HSE and included as a key factor in reviews and investigations. The pandemic has provided an opportunity for organisations to revamp wellness initiatives to focus on the mental as well as the physical – and left them wide open to major scrutiny if they fail to do so.
The reality is that those at the helm of a business understand all too well the fragility of mental health. The pressures of growing and leading a business are immense and dealing with the day-to-day responsibilities of hiring and firing, raising capital, hitting targets and managing clients can take a toll on physical and mental health. Fortunately, those at the top tend to be surrounded by a loyal and experienced network of fellow board members, mentors and advisors to share the load, help navigate difficult decisions and manage setbacks. This isn't the case for the average employee, who can often feel under-represented and a burden on their wider team when dealing with mental health issues at work.
Undoubtedly, the pressures faced by leaders have been exacerbated by the coronavirus crisis. Covid-19 is inflicting untold damage on economies globally and those in senior positions have had to rewrite plans and adapt business models while also endeavouring to look after their teams and stay afloat at a time of deep uncertainty. Now's the time to demonstrate to employees that you get it, you're there for them and you really are all in this together. Putting a well-considered, inclusive mental wellbeing programme in place is the ideal demonstration of commitment. Not only will this generate good sentiment among existing staff, but also will act as a selling point for potential recruits, future-proof your corporate culture and protect your brand and reputation.
The business case
Annette Andrews is an experienced Chief People Officer with experience across a broad range of areas in HR, as well as a qualified executive and life coach, mediator and mentor.  She has worked at many levels within organisations including Ford Motor Company, Lloyds Banking Group and the Lloyd's Insurance Market and offers a unique insight into the size of the mental health challenge.
She said: "The general consensus is that it is likely to be only a matter of time before a major case, and pay out, will pave the way for others and draw a proverbial line in the sand on what is expected of employers. However, there always needs to be a business case if you are going to get investment into what has not historically been a priority."
The following data from July 2020 demonstrates the impact poor mental health can have on businesses and the economy – but also the huge potential to make a difference.
On average a UK employee takes 4 days off work a year for mental health related reasons, but they give other reasons for the time off work.
Most employers do not potentially know the size of their mental health related absence.
Mental health costs the UK economy £42-£45 billion each year due to absence and impact on turnover.
Annette continued: "When you consider that these statistics come before we know, or fully understand, what the longer term implications of the pandemic are likely to be, business leaders can ill-afford not to take this seriously.
"Our concerns about mental wellbeing are only likely to increase as a result of the pandemic and lockdown. We all know people who have been living with uncertainty, anxiety, isolation and relationship concerns, increased unemployment, sleep pattern changes, challenging working arrangements and environments – the list goes on. This is having an impact and it affects us in different ways."
Times are uncertain but one thing's for sure, the importance of workplace wellbeing now needs to sit at the top of every board's agenda – regardless of the size of company, sector they operate within or how heavily they've been impacted by Covid-19. The cultural shift of 2020 cannot be ignored and, moving forward, top talent will consider the wellbeing offering of organisations, not just the financial perks on offer. By taking steps now, businesses and their people can not only survive, but thrive.